Focus and Scope
Norteamérica is a semiannual peer-reviewed journal regarding multi and interdisciplinary academic studies about the North America region (Mexico, United States and Canada) which consider the region itself as an object of study, along with its evolution, its individual processes and internal dynamics. An analysis of the reality of each of the three nations is thematically linked with the rest of the region.
1.- Norteamérica will publish exclusively multi- and interdisciplinary academic studies focused on the North American region (Mexico, the United States and Canada) that: 
 a)  address the region as an object of analysis: specifically, its evolution, particular processes,  and internal dynamics;
 b)  analyze the reality in each of the three nations, linking them thematically with the rest of  the region;
 c)  carry out comparative studies of the nations of North America;
 d)  address the region and its insertion in the international context; and
 e)  expand upon international processes and their impact within the region. 
2.- Through these research perspectives, the journal will disseminate articles addressing a wide variety of general and specific issues:
 a)  politics, economics, society and culture;
 b)  foreign policy, trade, political systems, security, comparative politics, political philosophy  and history; and
 c)  migration, electoral processes, borders, science and technology, minorities, the  environment and natural resources, education, human rights, gender, and others. 
Section Policies
ESSAYS
The specific objective of the "Essays" section is to address one or more issues in a profound way, making comparisons from national, regional or international perspectives.
| | | |
| --- | --- | --- |
| Open Submissions | Indexed | Peer Reviewed |
CONTEMPORARY ISSUES
The "Contemporary Issues" section will be distinguished by its inclusion of a diversity of formal, critical studies on topics of current importance in an accurate and original way.
| | | |
| --- | --- | --- |
| Open Submissions | Indexed | Peer Reviewed |
SPECIAL CONTRIBUTION
"Special Contribution" is a section open to different kinds of contributions: non-academic essays, interviews, graphic art, literature, etc. This section will only be published when the Editorial Board considers it appropriate. Length: 10 to 20 pages. 
| | | |
| --- | --- | --- |
| Open Submissions | Indexed | Peer Reviewed |
INTERVIEWS
| | | |
| --- | --- | --- |
| Open Submissions | Indexed | Peer Reviewed |
CRITICAL NOTES
A diversity of formal, critical studies on topics of current importance written in an accurate and original way. 
| | | |
| --- | --- | --- |
| Open Submissions | Indexed | Peer Reviewed |
BIBLIOGRAPHICAL NOTES
This section corresponds to essays that review, compare, and analyze one or several recently published books that address the same topic and have a significant academic impact.
| | | |
| --- | --- | --- |
| Open Submissions | Indexed | Peer Reviewed |
DOSSIER
A través de la sección Dossier de Norteamérica se busca reunir artículos que en conjunto aborden un tema o problema de las líneas desarrolladas por la revista: política, economía, sociedad y cultura, comercio, sistemas políticos, seguridad, política comparada, filosofía política e historia; migración, procesos electorales, frontera, ciencia y tecnología, minorías, medio ambiente y recursos naturales, educación, derechos humanos, genero y otros más. La sección Dossiers se prepararán con los mismos criterios que los artículos de las secciones Ensayos y Análisis de Actualidad; y forma parte de los números ordinarios de la revista.
| | | |
| --- | --- | --- |
| Open Submissions | Indexed | Peer Reviewed |
Peer Review Process
Norteamérica is a double-blind, peer-reviewed journal that guarantees the publication of rigorously evaluated articles in its three sections titled "Essays", "Contemporary Issues", and "Dossier." 
For the "Essays" and "Contemporary Issues", and "Dossier" sections, collaborations that meet the criteria stablished by the "Editorial guidelines and Norms" will be accepted for review only after an internal revision regarding form and content has been conducted. The journal will not proceed with the review process otherwise. 
Norteamerica uses a double peer-review process that is strictly anonymous for both parties (author and reviewer). The reviewers are outstanding researchers that all together form a multi-institutional and multinational Board of Reviewers. The reviews will be specialized and documented, specifically referring to the quality and originality of the article, its timeliness and contribution to the corresponding field of study. 
Reviews can have only the following results:  
_____ APPROVED FOR PUBLICATION AS IT IS 
_____ APPROVED FOR PUBLICATION WITH MINOR CORRECTIONS 
_____ POSSIBLY ACCEPTED FOR PUBLICATION WITH SIGNIFICANT CHANGES 
_____ REJECTED  
Approval by two referees is an indispensable requirement for publication. If one of the reviews is negative, a third reviewer will decide. 
Articles that receive a conditional approval will only be published if authors incorporate the modifications indicated and these are also approved by the Editorial Board. 
The content of the reviews is strictly for internal use of the journal and the author. 
Texts will be evaluated, in accordance with the "Guidelines and Norms" of the journal, both formally and thematically by the Direction of the journal and the Editorial Board. These two commitees hold the right to decide whether articles suit the interests of the journal or not. 
The review process will be strictly anonymous for both parties (author and referees). The author will receive a copy of the two reviews.
The proposed deadline for reviewers will be between 4 and 6 weeks. 
Open Access Policy
In 2006 the UNAM joined the Berlin Declaration, which promotes Open Access to all digital content obtained as a result of academic, scientific research and cultural activities undertaken by the University and is published by its academic members and university dependencies, as well as all other resources which UNAM is responsible for and possesses patrimonial rights or authorization from their respective authors.
This journal provides immediate open access to its content on the principle that making research freely available to the public supports a greater global exchange of knowledge. Users can read, download, copy, distribute, print, search, or link to the full texts of these articles.
Archiving
Norteamerica ensures that publications are preserved and available for future scholars, researchers, and students through archiving agreements with SCIELO (CLOCKSSS) and Elsevier (Portico)
General Criteria
1. The journal is published twice a year and most of its content (75%) is dedicated to articles based on academic research and originality, these must not be previously published and will be subjected to a rigorous double-blind peer-review. 
2. Articles must contain a source citation system using up-to-date, relevant and pertinent sources through adequate bibliographical and electronic references. 
3. Authors will be scholars from specialized areas, representative of national, North American and international diversity. At least 60% of them will be linked to institutions other than the one publishing this journal. 
4. Texts will be published in the language in which they were originally written (Spanish, English or French). 
5. The journal will be distributed nationally and internationally. 
6. No costs will be charged for submitting manuscripts for p.rocessing and publishing
Ethical Guidelines
1.- Journal Editor Duties
1.1 The journal editors are responsible for performing a first revision of the received manuscripts and deciding on their thematic pertinency and appropriate presentation of the formal aspects before proceeding with the peer review process. They are also responsible for starting and managing the double-blind peer-review process by assigning reviewers based on academic qualifications and thematic and methodological pertinency, notifying authors on a timely manner of the results of the review process, and publishing manuscripts which have received favorable results in accordance with the journal guidelines. 
1.2 Norteamerica will timely inform authors on each phase of the publishing process: (1) Reception; (2) First revision; (3) Double-blind peer-review results; (4) Editorial Board decision on publication and programming; (5) Publication Notice. 
1.3 The Journal Editor is responsible for deciding which papers will be submitted to the peer-review process but it is the Editorial Board who will decide on publication. 
1.4 Publishing decisions will not depend in any way on nationality, ethnicity, political views, institution or gender. 
1.5 The Journal is commited to preserving confidentiality of all participants in the double-blind peer-review process.
2.- Authors Duties
2.1 Authors are committed to submitting only original and unpublished manuscripts. No previously published texts will be considered for publication on Norteamérica. 
2.2 A manuscript is considered previously published when (1) the full text has been published in another journal or academic publication; (2) large fragments of previously published papers appear in the submitted manuscript; (3) the submitted manuscript has been published in congress memoirs. These criteria apply for printed and electronic publications and for any language. 
2.3. Authors must declare and appropriately cite any fragment taken from another work; this applies to sources, tables or any other content. 
2.4. The author who submits a manuscript for publication accepts the responsibility for including all the appropriate names of his or her co-authors. 
2.5 Authors are responsible for avoiding any reference to their identity in the manuscript. 
2.6 Authors should not submit their manuscript simultaneously to other journals. 
2.7 Authors must accept the norms, criteria and publishing processes of the journal.
3.- Reviewers duties
3.1 Reviewers should only accept to review manuscripts for which they consider themselves to have enough competence, expertise and the specific knowledge for performing the task expected from them. 
3.2 The reviewers task is to decide if a manuscript is worthy of publication. If not, they must provide sufficient reasons to sustain their rejection. In any case, they should strive to help authors improve their manuscripts by offering constructive criticism whenever possible. 
3.3 Reviewers must avoid any conflict of interest that they may recognise in relation to their proposed reviews. They should notify the editors of any non ethical conduct detected in the manuscripts and point out any other motive that may lead to the rejection of the manuscript under review. 
3.4 Reviewers should notify the editors if they are qualified to review a manuscript according to the time and form proposed by the journal.
Directory
 Universidad Nacional Autónoma de México
   Enrique Graue Wiechers
   Rector/President
   Domingo Alberto Vital Díaz
   Coordinador de Humanidades/Coordinator of Humanities 
   Dra. Graciela Mártinez Zalce-Sánchez
   Directora del CISAN/CISAN Director
   Fundador/Founder
   José Luis Valdés-Ugalde
   Coordinador editorial/Managing Editor
   Teresita Cortés Díaz
  Cuidado de la edición/Associate Managing Editor
   Teresita Cortés Día
   Corrección de estilo/Copy Editing
   Teresita Cortés Díaz, Hugo Espinoza
   Formación y captura/Typesetting and Lay-out
   María Elena Álvarez Sotelo
   Corrección de estilo en inglés/English Copy Editor
   Heather Dashner Monk
   Diseño gráfico/Graphic Design
   Patricia Pérez
   Ventas y circulación/Sales and Circulation
   Norma Manzanera Silva
   Cynthia Creamer Tejeda
Indexing
Norteamérica, Revista Académica del CISAN-UNAM, is ranked as a Q4 Journal by CONACYT (2018); it is also included in the following data bases and catalogues: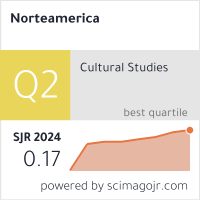 Editorial Bodies
The Editorial Board is responsible for the editorial and academic policies of the journal as well as the application of its norms, promoting the journal and evaluating the published issues. It will also decide on any controversial matter unforeseen by the Guidelines of the journal. 
The International Advisory Board is a consulting body; its members will actively participate in the academic evaluation of the articles received. They can also serve as reviewers when needed and participate in assigning the reviews, while periodically evaluating the reviewers' directory, according to thematic areas of expertise. 
The Editor in Chief is responsible for managing the peer-review process as well as the other management areas of the journal, such as editing, communicating with authors and reviewers, and indexing.
Editorial Board
Roger Bartra, Instituto de Investigaciones Sociales, UNAM, México
Jorge Basave Kunhardt, Instituto de Investigaciones Económicas, unam, México Marianne Braig, Lateinamerika-Institut, Freie Universität Berlin, Alemania
Daniel Drache, Robarts Centre for Canadian Studies and Department of Political Science, York University, Canadá
Luis Maira, Embajador, Chile
Juan Carlos Moreno Brid, Facultad de Economía, UNAM, México
Patricia Eugenia de los Ríos Lozano, Departamento de Ciencias Sociales y Políticas, Universidad Iberoamericana, México
Mónica Verea Campos, Centro de Investigaciones sobre América del Norte, unam, México Scott Whiteford, Center for Latin American Studies, University of Arizona, Estados Unidos
International Advisory Board
Carlos Alba Vega, Centro de Estudios Internacionales, El Colegio de México,
 México Enrique Cabrero Mendoza, Consejo Nacional de Ciencia y Tecnología, México
Leonardo Curzio Gutiérrez, Centro de Investigaciones sobre América del Norte, UNAM, México
 James Dunkerley, School of Politics and International Relations Queen Mary University of London, Inglaterra
María Teresa Gutiérrez Haces, Instituto de Investigaciones Económicas, UNAM, México Christopher Hill, School of Advanced International Studies, Johns Hopkins University, Estados Unidos
Laura López Morales, Colegio de Letras Modernas, Facultad de Filosofía y Letras, UNAM, México
 Laura MacDonald, Department of Political Science and the Institute of Political Economy,Carleton University, Canadá
Alejandro Mercado Celis, Centro de Investigaciones sobre América del Norte, UNAM, México
 Olga Pellicer Silva, Departamento Académico de Estudios Internacionales, Instituto Tecnológico Autónomo de México, México
Ricardo Pozas Horcasitas, Instituto de Investigaciones Sociales, UNAM, México
 Guillermo Pulido González, Centro de Estudios Mexicanos UNAM /China, México
 Pablo Ruiz Nápoles, Facultad de Economía, UNAM, México
Jorge A. Schiavon, División de Estudios Internacionales, Centro de Investigación y Docencia Económicas, México
Johanne Sloan, Department of Art History, Faculty of Fine Arts, Concordia University, Canadá
 William Straw, Department of Art History and Communication Studies, McGill University, Canadá
Marcela Terrazas y Bazante, Instituto de Investigaciones Históricas, UNAM, México
Blanca Torres Ramírez, Centro de Estudios Internacionales, El Colegio de México, México
Diego Valadés Ríos, Instituto de Investigaciones Jurídicas, UNAM, México
Jesús Velasco Grajales, Social Science Department, Tarleton State University, Estados Unidos
 Juan Villoro, escritor y crítico literario, México
Donatella M. Viola, Dipartimento di Scienze Politiche e Sociali, Università della Calabria, Italia Laura Zamudio González, Departamento de Estudios Internacionales, Universidad Iberoamericana, México
Paz Consuelo Márquez Padilla, Centro de Investigaciones sobre América del Norte, UNAM, México